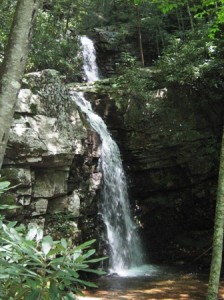 Our July Blitz, where we plan an activity each weekend in July, kicks off this weekend with an easy day hike to Gentry Creek Falls in Johnson Co, TN.  This is an easy 5-mile round trip hike back to a double waterfall and swimming hole.   Scouts should wear clothes and shoes that they don't mind getting wet.  Bringing a change of clothes for after the hike is recommended.
We will meet at the church at 8:30 a.m. on Saturday July 7.  Bring a water bottle and a snack for the trail.  Cost is $3 for gas.  Scouts should bring money to stop for a "treat" on the way home.
Parents, siblings, and friends are welcome to join us!
Logistics for the rest of July blitz are being worked out, but the activities will include hiking, biking on the Creeper trail, a weekend campout at the Lake, and a backpacking adventure!