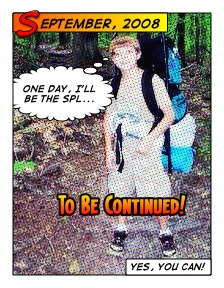 We're getting ready for an overnight backpacking trip to Old Orchard this weekend.  Old Orchard is a clearing on the side of a mountain, off the Appalachian Trail near Smyth/Grayson Counties in Virginia.  On a clear night, the stars there are fantastic!  This trip is an easy 1.5 mile hike up a gentle grade, accessible to any first time backpacker, and it will serve as our training hike for our next backpacking adventure, a three night trip to the Great Smoky Mountains in August!
What do you need?
A backpack (we have some loaners)
A sleeping bag
A sleeping pad
Lightweight food items (we will go over this at Tuesday's meeting…check out this link to our website: Finding Food for the Long Haul
For other items, download our gear checklist (Don't over-pack – this list is all inclusive!)
UPDATE : Meet at the church at 9:30 a.m. on Saturday for a "Pack Check". 
Plan to leave at 10:00.
Cost is $2 for gas.
We will be back after lunch on Sunday.
Hope your scout can make this trip.  Contact us if you have any questions.  Please let us know if your scout is planning to attend…