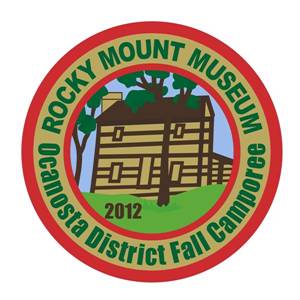 Cost: $20 for transportation, events, food, and patch
Meet at SSUMC at 4:00 p.m. on Friday October 5.
Return Sunday October 7 at 1:00 p.m.
Take a trip back to 1791!
Details:
Ocanosta Fall Camporee
October 5th, 6th, & 7th, 2012
Rocky Mount Historical Site
Johnson City, TN
This year's Fall Camporee will celebrate the year 1791 with an exciting event full of period demonstrations, events, and games!  The Golden Kettle Award is back and BETTER THAN EVER!  This year's Golden Kettle Award will be judged on: Camp set up, Troop Gateway (period appropriate) Cleanliness, and of course….Cooking!  This year's theme for cooking will be period foods and cooking methods.  Campfire is scheduled for Saturday night, so get your skits and songs ready!
Events for the scouts include:
Black powder rifle demonstrations
Candle making
Blacksmith demonstrations
Tours of Rocky Mount
Period Games
And more!
Scouts will have an opportunity to earn the "Historic Trails Award" this year by participating in the day's events.
So dust off your Dutch ovens, fire pits, and imagination and get ready to go back in time with Ocanosta District's Fall Camporee and Rocky Mount Historical Site!