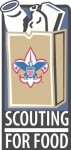 We need all hands on deck this weekend for our annual service project, Scouting for Food!  Our territory has nearly doubled, so we're needing lots of help from scouts and parents to cover this area.  Parents, if you can help us by driving on Saturday morning during Scouting for Food, please let us know tonight at the meeting.
Meet at the church (rear parking lot) at 9:00 a.m.  We will divide into teams and cover our assigned areas, handing out food bags.
After the bags have been distributed, we will regroup at the church at 12:00 p.m. to load for our camping trip to Natural Tunnel.  We're hosting the Webelos scouts from Pack 8 who will be joining our troop in December, so we want to be sure to show them a good time.
Cost for the trip is $15, which covers food, camping, and transportation.  Scouts should bring money for lunch – we will stop at McDonald's in Kingsport on the way to Natural Tunnel.
We will return to the church around mid afternoon on Sunday.
Call, text, or e-mail if you have any questions!  See you Saturday!