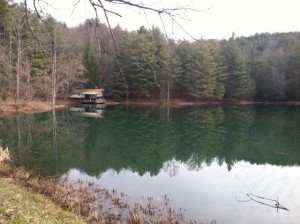 We'll meet at the church at 4:00 p.m. on Friday January 4 and head up to the Geisler cabin in Lee County.
Pack a supper or bring money to stop for a fast food supper on the way.
Cost for the trip is $15, which covers transportation and four meals.  We will return to the church around lunch time on Sunday.
A short hike up to the top of the mountain is planned, plus other fun activities. This is one of our scouts' favorite trips! Hopefully, no one will fall in the lake this year!
For more information, please feel free to call, text, or e-mail Mr. Rutherford.