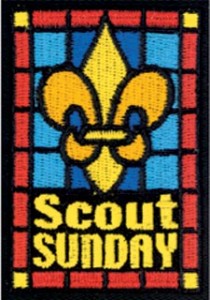 February 3rd is Scout Sunday, a day to recognize the contributions of young people and adults to Scouting, and to show our charter organization our appreciation for their support. Please join us in uniform for the morning service at State Street United Methodist Church.
Our pack/troop is mostly invisible to the congregation of our sponsor, but on this one Sunday each year, we exercise our duty to God and the twelfth point of our law, "A Scout is Reverent," by attending the 11:00 a.m. worship service at State Street.  Scouts are requested to meet in the upstairs lobby of the church at 10:30, in FULL UNIFORM, which includes shirt, neckerchief, and blue jeans.  Families are invited to attend with us as well.
This is one of the few times that we are visible to most of the church members, and it is our opportunity to thank them for their support.  Meet at the church at 10:30AM.  Scouts will serve as ushers and participate in the worship service.  Families are encouraged to attend.