When:  March 23-24, 2013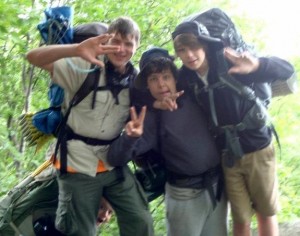 The beginner backpackers will meet at the church at 10:00 a.m. on Saturday March 23 for gear check.  The longer hikers may meet earlier – see Mr. Smith for details.  We will finish early Sunday afternoon (we will call for rides when back at the church).
Where:
We will drive in the church van to the Old Orchard trailhead.  Old Orchard is a clearing on the side of a mountain along the Appalachian Trail in Smyth Co, near Troutdale, Virginia.
What to bring:
YOUR OWN GEAR AND FOOD…  See the gear checklist and food information on the troop website.  If you need to borrow any gear, the troop has loaner equipment available.  See Mr. Rutherford.
Cost: $4 for gas.  Pocket money for a convenience store stop on the way home.
We are fond of this trip, because it has historically been our introductory backpacking trip.
The beginner's hike is easy – a 1.5-mile gentle climb up to Old Orchard.  This allows beginning backpackers the time necessary to review their gear and how it is packed, and also to make sure everyone is properly prepared.  Once at Old Orchard, they will have the option of exploring the area or hiking on up to the top of the mountain where wild ponies roam free.
The longer hike is about 6.5 miles over the Pine Mountain Trail into the same spot.  This is for scouts who are experienced in backpacking.  Mr. Smith will be leading the longer hike.