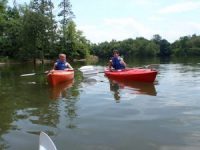 This weekend, we've got a trip that has been much-requested: a canoe/kayak camping trip along the Holston River. Here are the details:
When: meet at the church at 9:00 a.m. on Saturday September 24.
We will load up gear and boats. Then we will drive out to Mendota and make camp. After camp has been set up, we will travel up the river and embark on our float trip.
We are floating about 5 miles on nearly flat water. The North Fork is shallow and calm. No experience is necessary. All of our scouts will be able to navigate the easy paddle. Continue reading Canoe/Kayak Camping Trip