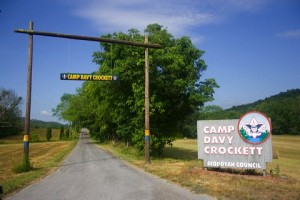 It is time to start thinking about troop 8's week at Camp Davy Crockett, June 23-29.  We encourage all our scouts to attend summer camp – there are many fun and exciting classes, and scouts who attend camp can really accomplish some major work on rank advancement and merit badges!  The cost is $195 for the week, which is much less than most week-long camps.  We also have access to camp scholarships.  Anyone who would like to apply for a camp scholarship need only let us know.
Registration for classes begins this week.  A listing of the classes is available here [CDC2013].  Scouts can begin looking over this list, and we will be discussing it in our patrol meetings tomorrow night.  The BSA requires a current physical for each scout who attends camp.  A writeable pdf version of this form is available in the forms section of this website.  Please print off this form and take them with you for your son's next physical.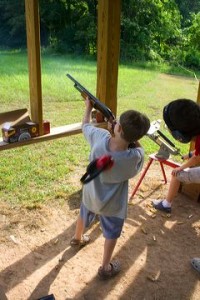 A note on expo tickets
Selling expo tickets is an easy way to earn a free trip to Camp Davy Crockett.  Here's how:
Any scout who sells 350 tickets can earn a free trip to camp, valued at $195.  In addition to the free week at camp, the scout also receives a commission of $105 which is deposited into his troop account.  This can be used to pay for any scouting-related expenses, including trips, uniforms, gear, dues, etc.  Here's how I do the math:
$350 ticket sales minus the cost of camp ($195) minus the $105 commission is $50.  If you know you're going to camp and can sell 50 tickets, you end up better off if you go ahead and purchase the rest.  The Food City coupon can be used for groceries or gas, and the dollar off pays for the price of the ticket.  Scouts can sell to family, neighbors and friends, and they can also sell at Food City stores.  To sign up for a time at Food City, get two or four scouts and a parent chaperone and call the council office (423-952-6961) to reserve a time.
If you have any questions about summer camp, please reply to this email or call anytime.
Yours in Scouting,
Rob Rutherford
423-335-7542