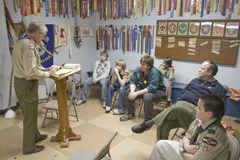 Troop 8 meets every Tuesday night at 7:30 in the Fellowship Hall at State Street United Methodist Church, which is not on State Street but is instead at 300 W. Valley Dr., across from Virginia High School. Visitors are welcome.
Camping and hiking opportunities are typically at least once a month. Check out our Events Calendar for details.
For further information regarding our troop
please contact the Scoutmaster.
location via Mapquest / Google Maps